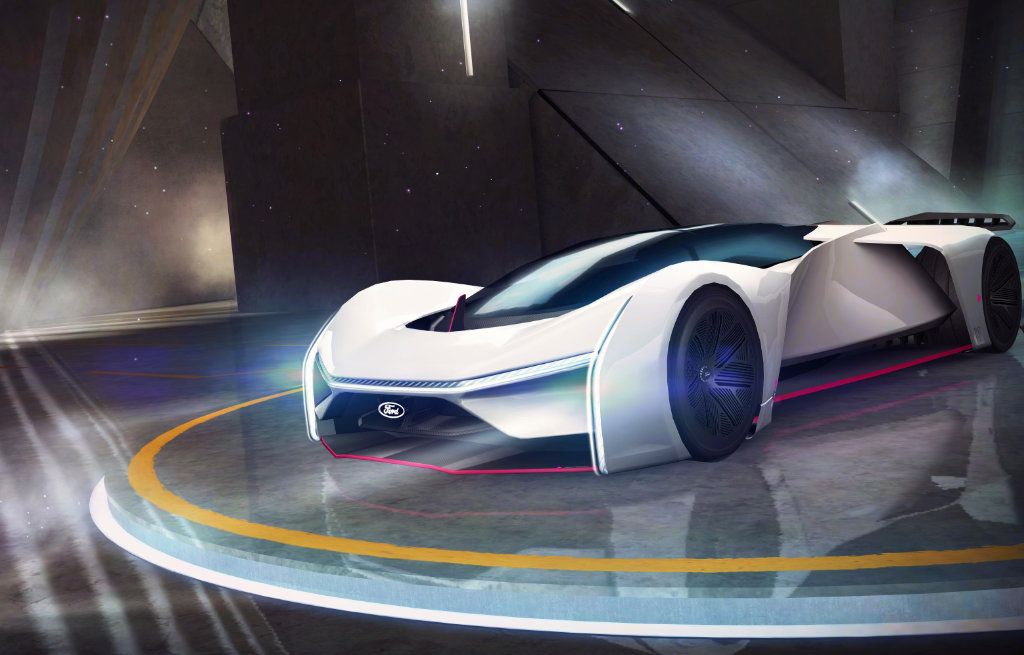 TEAM FORDZILLA P1 RACER MAKES MOBILE GAMING DEBUT
The Team Fordzilla P1 (TFZ-P1) race car is set to take to the streets – and even the skies – as it launches into the hugely popular Asphalt 8: Airbourne mobile racing game.
A mobile gaming debut, TFZ-P1 will compete on more than 75 tracks, that include huge airbourne jumps, in a game that has around 500 million downloads since launch. The vehicle will be a premium award for particpants in a new in-game ten-day festival launching on September 2nd, 2022, which follows closely behind one of the game's biggest-ever updates.
The appearance of TFZ-P1 in Asphalt 8 will also give fans the chance to see the vehicle in new colours with eight to pick from. Virtual top speeds of up to 435 km/h (270 mph) – with an additional nitro boost of around 48 km/h (29 mph) – and acceleration to 100 km/h (62 mph) in as little as 1.12 seconds also ensures the action will be adrenaline-fuelled.
The announcement comes ahead of gamescom 2022 in Cologne, Germany taking place between 24th and 28th August, where Ford and Team Fordzilla will be revealing a new branded gaming cockpit as well as having the new Ford Bronco on show.
TFZ-P1
The journey of the TFZ-P1 race car started in March, 2020, when gamers were asked to vote on the package and features of the car on Twitter, including seating configuration, engine position and cockpit definition. Nearly a quarter of a million fan votes were submitted throughout the polling process.
Ford designers then submitted designs based on those features, with an exterior designed by Arturo Ariño and an interior that was the vision of Robert Engelmann chosen as the winners. Just three months after revealing the final design, a full-scale model of the vehicle was unveiled at gamescom 2020.
Since then, it has evolved to become a racing simulator and then a live-streaming platform, being treated to a number of different exterior finishes along the way, including an experimental reflective orange paint. More recently it returned to the virtual world with its introduction to a popular console-based racing game.
Gameloft® and Asphalt 8
Gameloft® is a French video game publisher based in Paris with a special focus on the mobile games market. Leader in the development and publishing of games, the company has established itself as one of the top innovators in its field since 2000. They distribute their games in over 100 countries and employ 3,600 people worldwide. Every month, 58 million unique users can be reached by advertisers in Gameloft® games with Gameloft® for brands, a leading B2B offering dedicated to brands and agencies. Gameloft® is a Vivendi company.
Asphalt 8 was launched in 2013 and is one of twenty games across a number of different platforms to come under the Asphalt banner. It was the eighth main installment and as well as receiving critical acclaim it's backed that up by being one of the most downloaded mobile racing games on both iOS and Android. It includes over 300 licensed vehicles and gamers have spent more that 3.5 billion hours playing Asphalt 8, covering around 2.2 billion kilometres while drifting.
Team Fordzilla
This year's gamescom event marks the third anniversary of Ford's first ever esports team. In those three years not only have Team Fordzilla team members competed at the highest level on the virtual racing stage, they have also participated in Ford activities including its Driving Skills for Life program to promote safer driving habits among young people. They also supported the Ford Gaming Transit; a specially converted van that offered accessible gaming to children with specific physical needs.
Quotes
"We are really proud of the three major pillars that the Asphalt franchise is famous for: high-octane exclusive vehicles, adrenaline-pumping races and a variety of game modes. We carefully choose every car to implement in the game. It passes a long way from an idea to a real in-game experience. That is why we're appreciate every car in Asphalt 8, and we are happy to welcome Team Fordzilla P1 into our family!"
Kirill Sergienko, Asphalt 8 game manager, Gameloft®
"Mobile gaming is a completely new area for us to explore and we couldn't be happier to have TFZ-P1 included in such a popular and well-known franchise. We've always thought the car looked a bit like a spaceship, now we'll all be able to see how well if flies in those fun jumps!"
Emmanuel Lubrani, Team Fordzilla
News